Covid-19 Spring Booster Programme *Updated 28th April 2022*
Eligible groups for Spring Boosters include residents of Older Adult Care Homes, People who are aged 75 years or over, and those who are immunosuppressed and aged 12 years or over.
Once invited for your booster you can book an appointment online through the National Booking System or by calling NHS 119.
Boosters will be given at vaccination centres.
Following discussions between the Primarcy Care Network and Sheffield CCG it has been agreed that in the wider interest of Public Health that we will be working with the other Network Practices to provide Spring booster vaccinations for Patients that are either residents in an Older Adult Care Home or Housebound and over 75 years of age. We will be incontact with each patient that fall in to these categories as and when we receive vaccine supplies.
Please note that during the duration of this booster programme we will have reduced nursing capcity for the management of long term conditions, and we will endeavour to catch up on annual birthday reviews at the earliest opportunity.
Thank You.
Zero Tolerance
GP Practices across the country are experiencing significant and growing strain with declining GP numbers, rising demand, struggles to recruit and retain staff of both clinical and administration roles which has knock-on effects for patients. All of our staff have been at the forefront of the NHS's response to the COVID-19 outbreak, delivering vaccines whilst maintaining non-COVID care for patients throughout.
Whilst the majority of our patients behave in an appropriate manor we do have some patients who have not, which has increased across primary care colleagues. It is not acceptable to swear, scream and shout at any practice staff. We do have a zero tolerance policy at the practice and want to ensure all of our staff feel safe and happy in their workplace. Any incidents of inappropriate behaviour will result in you receiving a warning letter from the practice or removal from the practice list.
The NHS operate a zero tolerance policy with regard to violence and abuse and the practice has the right to remove violent patients from the list with immediate effect in order to safeguard practice staff, patients and other persons. Violence in this context includes actual or threatened physical violence or verbal abuse which leads to fear for a person's safety. In this situation we will notify the patient in writing of their removal from the list and record in the patient's medical records the fact of the removal and the circumstances leading to it.
Purephysio - Self Help Tool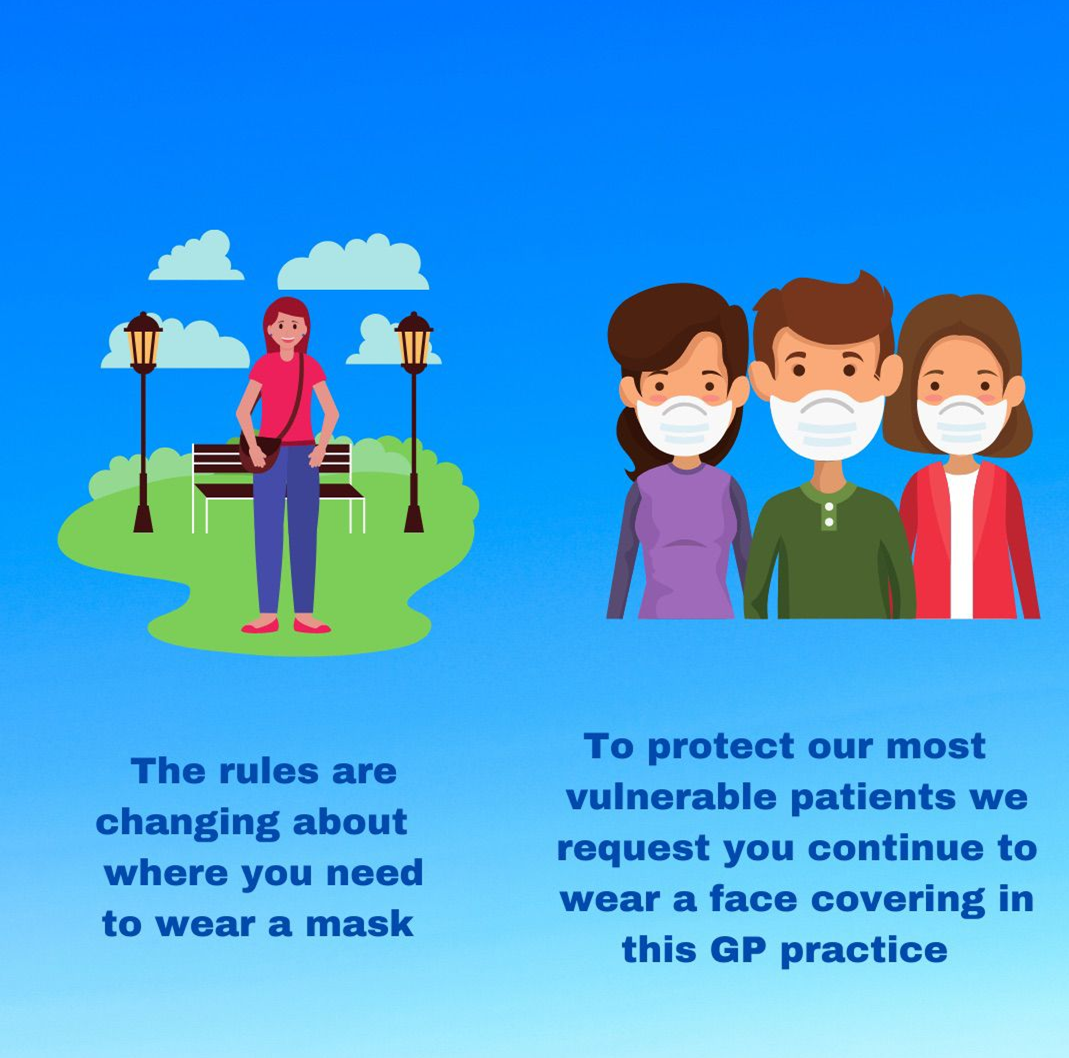 COVID-19
Please see the latest NHS guidance on the Coronavirus by clicking on the following link: https://www.nhs.uk/conditions/coronavirus-covid-19/
Current goverment guidance states it is sufficient for an individual to self declare face mask exemption, full guidance can be found - Here
PLEASE DO NOT VISIT THE PRACTICE BEFORE CHECKING THIS ADVICE.
If are pregnant or you have one of the following long-term conditions: asthma, heart disease, inflammatory bowel disease, diabetes, rheumatoid arthritis, chronic lung disease, please follow the links below for COVID-19 advice specific to your condition.
Pregnancy: https://www.rcog.org.uk/en/guidelines-research-services/guidelines/coronavirus-pregnancy/covid-19-virus-infection-and-pregnancy/
Asthma: https://www.asthma.org.uk/advice/triggers/coronavirus-covid-19/
Diabetes: https://www.diabetes.org.uk/about_us/news/coronavirus
IBD: https://www.crohnsandcolitis.org.uk/news/updated-wuhan-novel-coronavirus-advice
Inflammatory Arthritis: https://www.nras.org.uk/news/coronavirus-what-we-know-so-far
Respiratory/Lung Disease: https://www.blf.org.uk/support-for-you/coronavirus/people-living-with-lung-condition
Heart Disease: https://www.bhf.org.uk/informationsupport/heart-matters-magazine/news/coronavirus-and-your-health
If you have to stay at home due to coronavirus and cannot work, you can obtain a sick note by following this link: https://111.nhs.uk/isolation-note
Explainer information for patients about QCOVID
Why have I received this letter?
NHS England had used a risk assessment tool called QCOVID to calculate peoples risk of getting COVID. This is a complex tool that looks at a variety of different factors to assess peoples' risk. Because you have received this letter, you are one of the patients identified by the tool as being at high risk if you were to get COVID. You can see all the information your GP received here.
What in my medical records has caused me to be added to this list?
Unfortunately, your GP surgery has no current way of replicating the analysis that has been done by NHS Digital and so we are unable to tell you why you have been added to this list. This situation may change over time, but we have no way of knowing when.
What should I do now? Should I go to work? Should I go out?
You should follow the advice detailed here. This will mean that you need to take extra measures above and beyond those which you probably have been taking. The guidance covers:
Social activities
Work
Educational settings
Travel
Shopping
Medicines
Accessing care and support
Registering for additional support
You may be eligible for additional support and should be able to receive statutory sick pay for time off from work.
What about vaccination?
If you are under 65 you should be prioritised for vaccination ahead of others in cohort 6 which is people who are at risk because of a variety of medical conditions. If you are over 65 you will have already been in group 5, so this won't affect the priority with which you're given the vaccine.
What if I think they've added me incorrectly?
At the moment, the best way to review this is through discussion with your GP. Please bear in mind that GPs are incredibly busy at the moment vaccinating patients as well as trying to provide as normal a service to patients as possible. Because of this it may not be possible to immediately deal with enquiries about this and you may be asked to submit your details in an online form.
Do I have to follow this guidance?
Patients at high risk of severe outcomes from COVID-19 infection are strongly encouraged to follow shielding guidance. However, this is advice, and not the law. Patients can choose whether or not they want to follow it.
Why on earth am I only now being identified as high risk?
This tool has only just been approved for use in assessing patients risk of COVID 19. Until now we haven't had sufficient scientific evidence to run population-based tools that can accurately assess peoples risk of developing COVID.
Covid-19 Medical Exemptions: Proving you are unable to get vaccinated
https://www.gov.uk/guidance/covid-19-medical-exemptions-proving-you-are-unable-to-get-vaccinated#reasons-you-could-get-a-medical-exemption
Welcome To Chapelgreen Practice
Our Ethos
We are an enthusiastic practice with a commitment to providing high quality medical care. We have a long history of GP training and teaching which ensure the practice maintains high standards of clinical and organisational care that are externally assessed. We take pride in our provision of care to our list of patients and we encourage innovation and feedback to help us to continue to meet the changing needs of the local population.